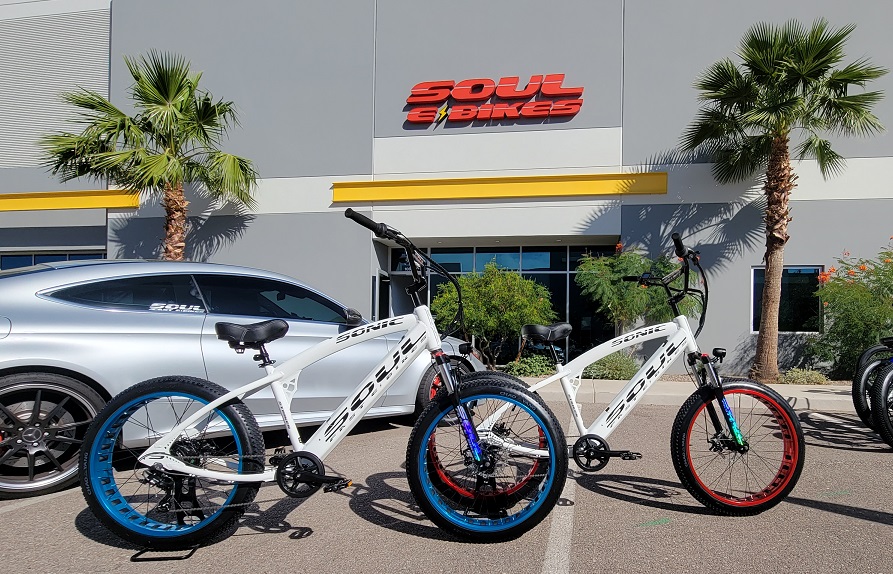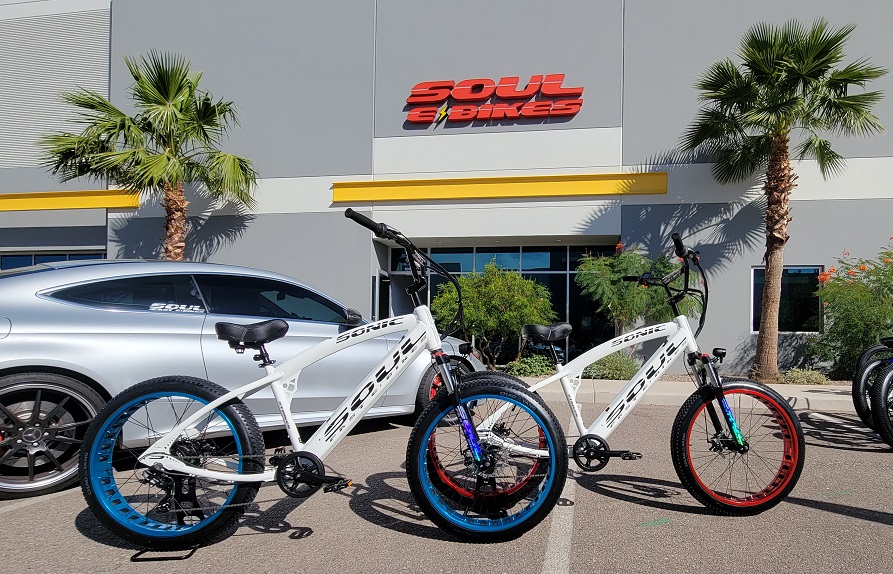 ON A BUDGET? At $1999 the base SABER 500W is most the affordable premium performance electric bike in the industry
For power, we went with the reliable Bafang 500W hub motor that puts out 750W peak power with a 8AH battery.
TOP SPEED / DISTANCE – Class 2 out of the box under 25mph / 25+ mile range
CLOSE OUT CASH PRICING $1499*  (VENMO/ZELLE/CHASE TRANSFER) ADD 2.5% CREDIT CARDS  
LIMITED TIME 1/2 SHIPPING $139
CALL US 657-215-0099
INDUSTRY LEADING FEATURES ~ PREMIUM COMPONENTS
COMPONENT  COLORS WILL VARY DEPENDING ON AVAILABILITY
OOOH LA LA 
Check out our welds. No taco folding here
48v 8AH LITHIUM SAMSUNG BATTERY
Integrated removable down tube battery
Sleek, clean and lockable
CNC'ED WELDED EAD TUBE BADGE  
No wimpy stick on here
BAFANG 500W 
750W peak power on tap.
Pedal-assist with an optional full throttle override
SHIMANO REVO GRIP SHIFTER   
THIRSTY? BOTTLE OPENER SOUL SADDLE
Comfort covered for the long haul
3M reflective SOUL logo
NOTHING OVERLOOKED  
Frame routed exit cables
HD WELD ON STEEL KICKSTAND   
No bolt on crap here
IT'S WHAT YOU DON'T SEE THAT COUNTS   
THE $2500 SABER 500

CLOSE-OUT SALE FOR ONLY $1299
The most affordable premium performance e bike on the market
500w/750W PEAK motor / 8AH battery

SOUL OUT
750W 26″ GLOSS WHITE  – BLUE RIMS
500W MOTOR/ 750W PEAK / 8AH BATTERY

SOLD OUT
750W 26″ GLOSS WHITE  – RED RIMS
500W MOTOR/ 750W PEAK / 8AH BATTERY

SOLD OUT

750W 26″ GLOSS WHITE  – BLACK RIMS
ONLY A FEW LEFT BLOWOUT $1299 
750W LADIES 26″ GLOSS WHITE – BLACK RIMS
500W MOTOR/ 750W PEAK / 8AH BATTERY

ONLY A FEW LEFT
750W LADIES 26″ GLOSS WHITE – TEAL RIMS
500W MOTOR / 750W PEAK

SOLD OUT

750W LADIES 26″ BLACK  – TEAL RIMS
500W MOTOR / 750W PEAK

SONIC SABER SPECS BELOW
COMPONENTS & COLORS WILL VARY DEPENDING ON AVAILABILITY
 Electronic Details
MOTOR BRAND:
Bafang 500W
MOTOR TYPE:
Hub motor
MOTOR NOMINAL OUTPUT:
500 watts
MOTOR PEAK OUTPUT:
500 watts under load
BATTERY BRAND:
Samsung
BATTERY VOLTAGE:
48 volts
BATTERY AMP HOURS:
8ah
BATTERY CHEMISTRY:
Lithium-ion
CHARGE TIME:
6.5 hours
ESTIMATED MIN RANGE:
20 miles
ESTIMATED MAX RANGE:
25+ miles
DISPLAY TYPE:
Black & white
READOUTS:
Clock, Trip Distance and Timer, Odometer, Current Speed, Average Speed, Maximum Speed, Assist Level (0-5)
DISPLAY ACCESSORIES:
Independent Button Pad on Left, Buttons: Up, Down, M, Power (Hold Down for Walk Mode, Press M to Cycle Trip Readouts, Press Power to Cycle Distance and Range Readouts)
DRIVE MODE:
Cadence Sensing Pedal Assist, Trigger Throttle (12 Magnet Sealed Sensor)