CLICK PICTURE TO PLAY VIDEO
Welcome to the #1 Selling Fat Tire Beach Cruiser in the Country THE SOUL STOMPER®.
Our Style
The first thing you notice is that this bike is a little bit different.  Owners are asked all the time about where did you get that bike?  More importantly we combined the best of a beach cruiser, a bmx bike and a fat tire bike into one great riding bike! We carry that style over to our electric bikes.  Our eBikes combine our great style and high performance.
Electric – We have your covered starting at $1899
Experience
Soul Beach Cruisers is a small family owned business based in Tempe, AZ offers well over 75 years of industry experience combined.  With that, we design and build our own bikes.  You will not find relabeled copy bikes from us.  We truly stand behind our product, and if you call in, you may even talk to the owner. That is rare these days.
BE PART OF THE SOUL LIFESTYLE
CALL OUR EXPERT STAFF: 657-215-0099
Soul Fat Tire Beach Cruisers & Soul FAST Ebikes 
WHEN ONLY THE BEST WILL DO
Keep paging down for the good stuff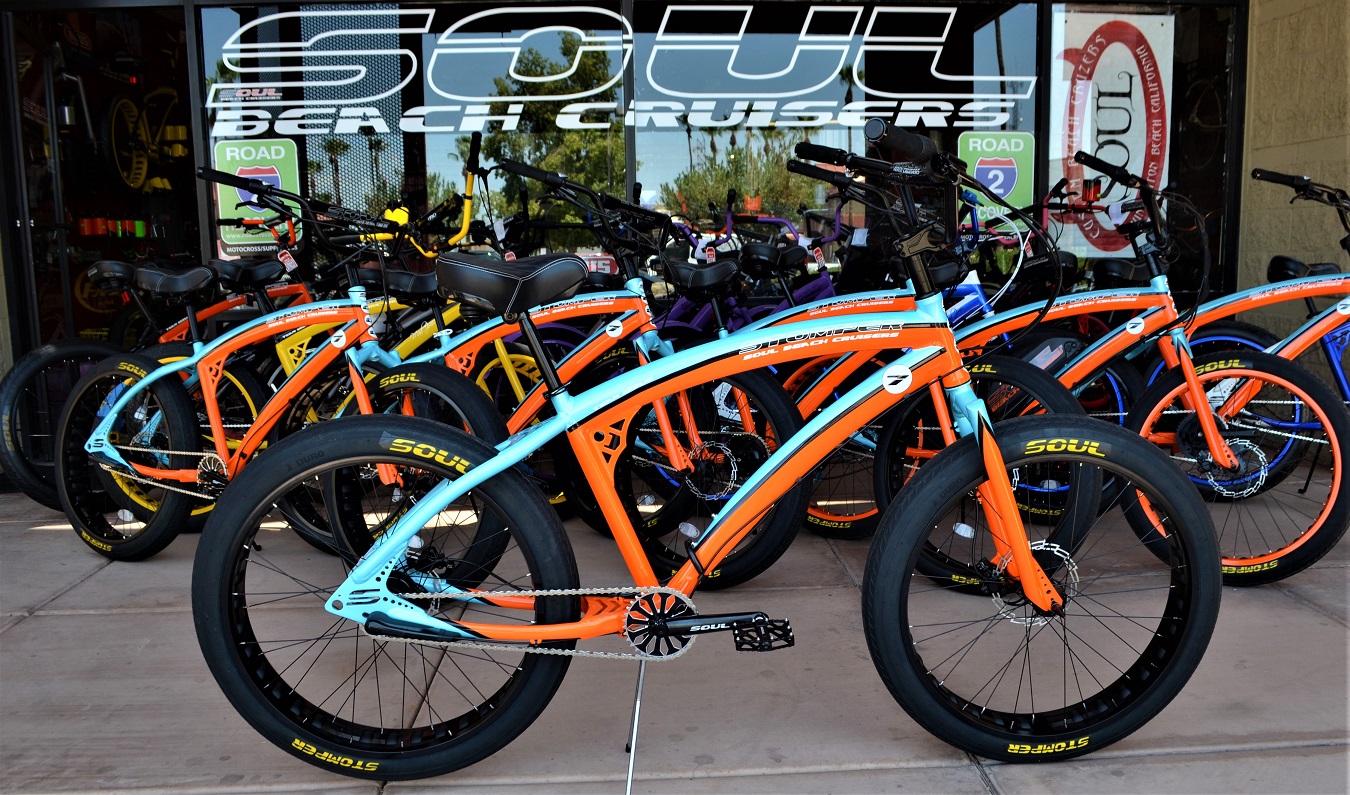 SOUL FAST SONIC SS STOMPERS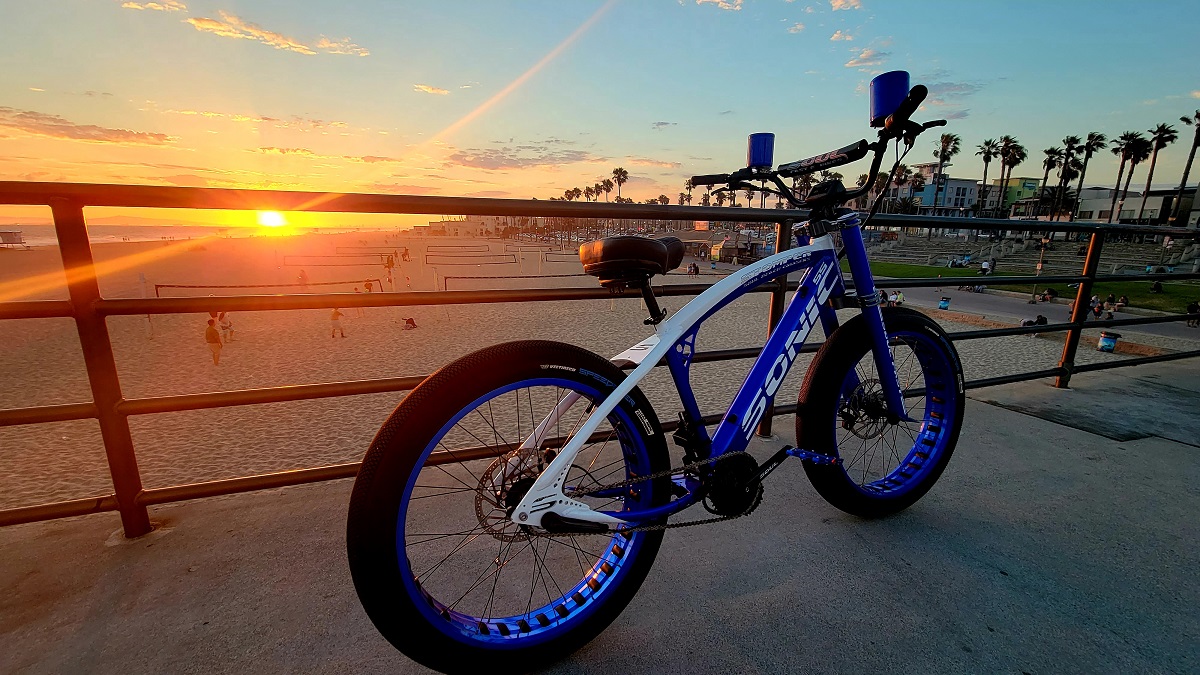 HOW DO YOU ENGINEER A CUSTOM FAT TIRE BEACH CRUISER THAT DELIVERS EXTREME PERFORMANCE MATCHED ONLY BY ITS RADICAL DESIGN?

-START FROM THE GROUND UP!
Soul uses a unique frame design with bold sculpted lines and a wide menacing stance. With distinct BMX styling and the strongest frame in the industry the Soul Stomper® is an industry leader for premium beach cruisers.

THE STOMPER® SEAMLESSLY BALANCES EYE-CATCHING DESIGN WITH A ONE OF A KIND RIDE.
THE SOUL STOMPER® IS A PERFORMANCE BMX FAT TIRE BEACH CRUISER – WITH HIGH END COMPONENTS AND THE INDUSTRIES ONLY HYDRAULIC DISC BRAKES ARE STANDARD ON EVERY BIKE. OUR UNIQUE STYLING CAN NOT BE MATCHED.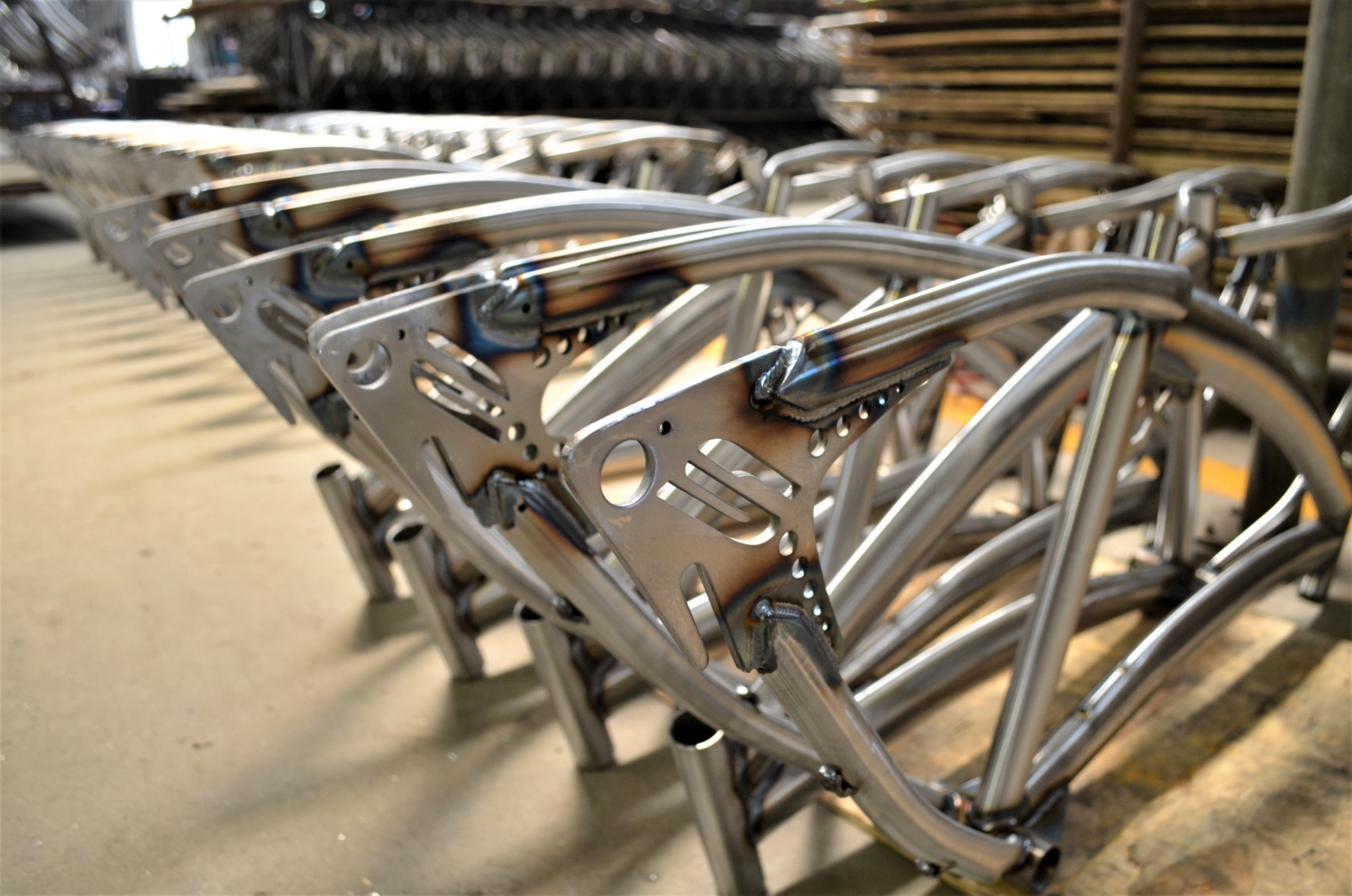 EACH ONE OF A KIND SOUL BEACH CRUISERS USES:
A SIGNATURE HYDRO-FORMED BMX STYLE FRAME & STRAIGHT BLADE CUSTOM FORKS
CNC'ED GUSSETS
LIGHTWEIGHT CUT OUT ALUMINUM RIMS
INTERCHANGEABLE RIM STRIPS
STAINLESS STEEL SPOKES WITH BRASS NIPPLES
AXLE SPIKES
VEE SPEEDSTER PERFORMANCE 2.8 " STREET TIRES
4130 TUBULAR CHROMOLY 175MM BMX CRANKS
SEALED BEARING BOTTOM BRACKETS
XL ALUMINUM PEDALS
KMC NICKEL Z CHAINS
HD WELD ON KICKSTANDS
XL SPORT COMFORT SOUL SADDLE
810MM WIDE MX BARS
4 BOLT BMX STEM
PREMIUM PAINT FINISHES & WATER BOTTLE CAGE MOUNT
Testimonials
See what our customers are saying about us
SONIC Electric from $1899
The best build ebikes on the market at an affordable price.
500-1500W of pure SOUL FUN!
Classic STOMPER®
Lifetime frame warranty
Extreme styling
Premium components
Classic Ladies Miss STOMPER®
Lifetime frame warranty
Extreme styling
Premium components
XTR Billet Edition STOMPER®
The Lightest Fat Tire Beach Cruiser in the World!
XTR 6061 T-6 Aluminum STOMPER® Billet Edition.
Billet Components / Bracko Saw Blade Rotors / Stainless Steel Chains
Available in pedal or electric power in Spring 2022, the Diavolo will prove to be the coolest bike on the market.
Check out the 2018 Soul Pedal Party held during NASCAR Phoenix at ISM Speedway.
TV Personality, and Soul owner Ralph Sheheen reviews the Soul STOMPER®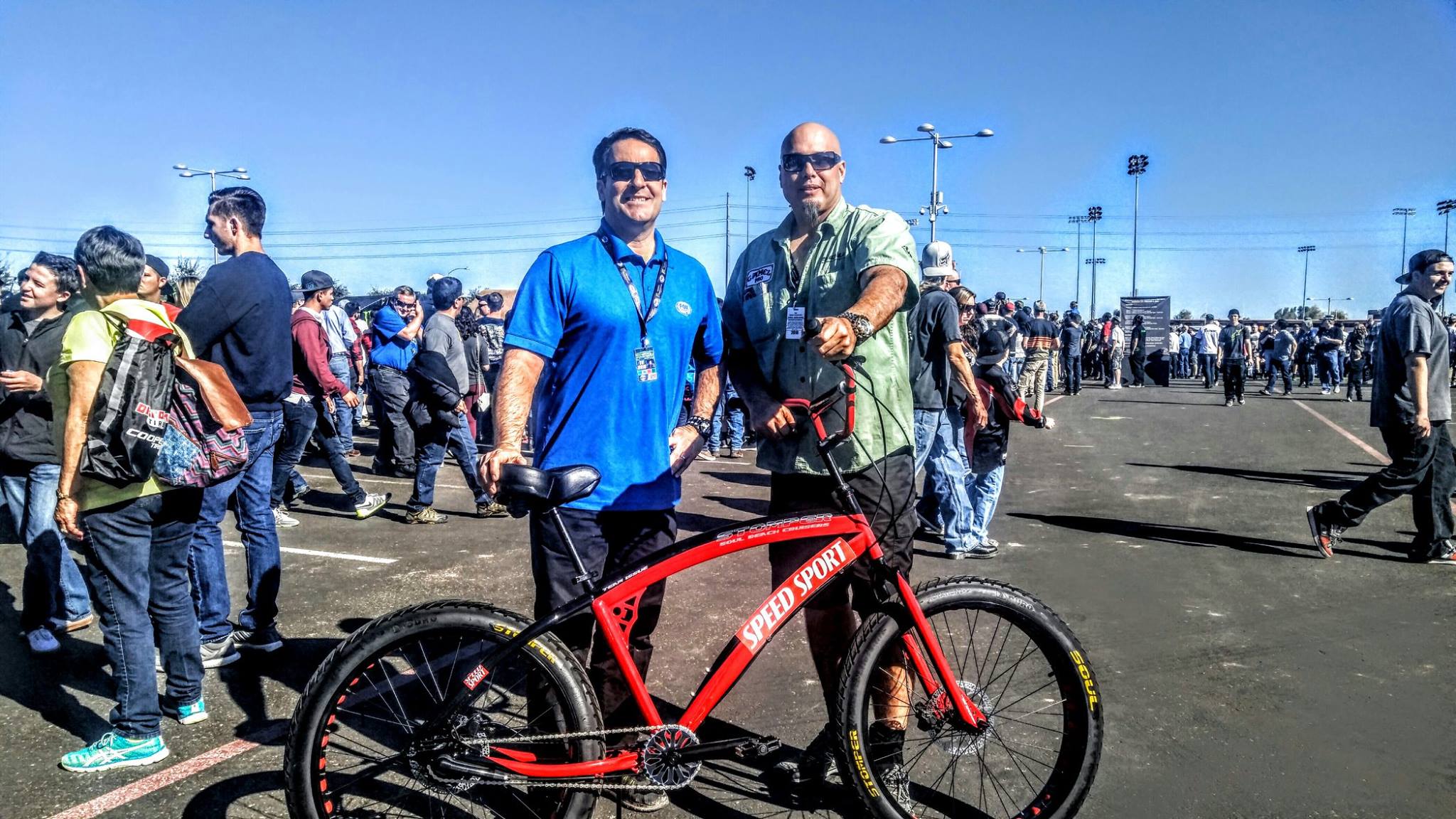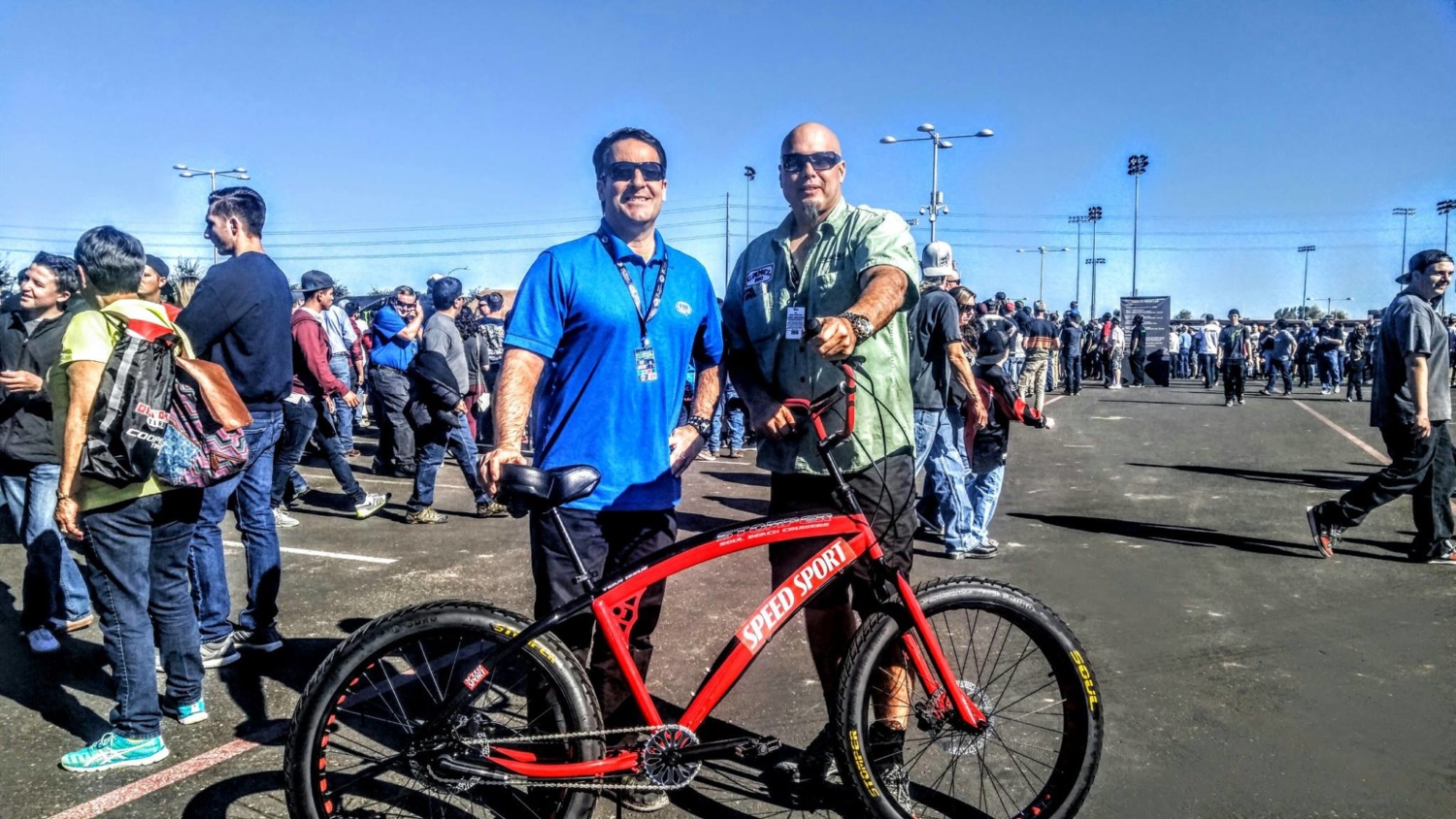 Brazilian Pro Surfer Marcello Malinko on our 2017 XTR Billet STOMPER in Hermosa Beach CA